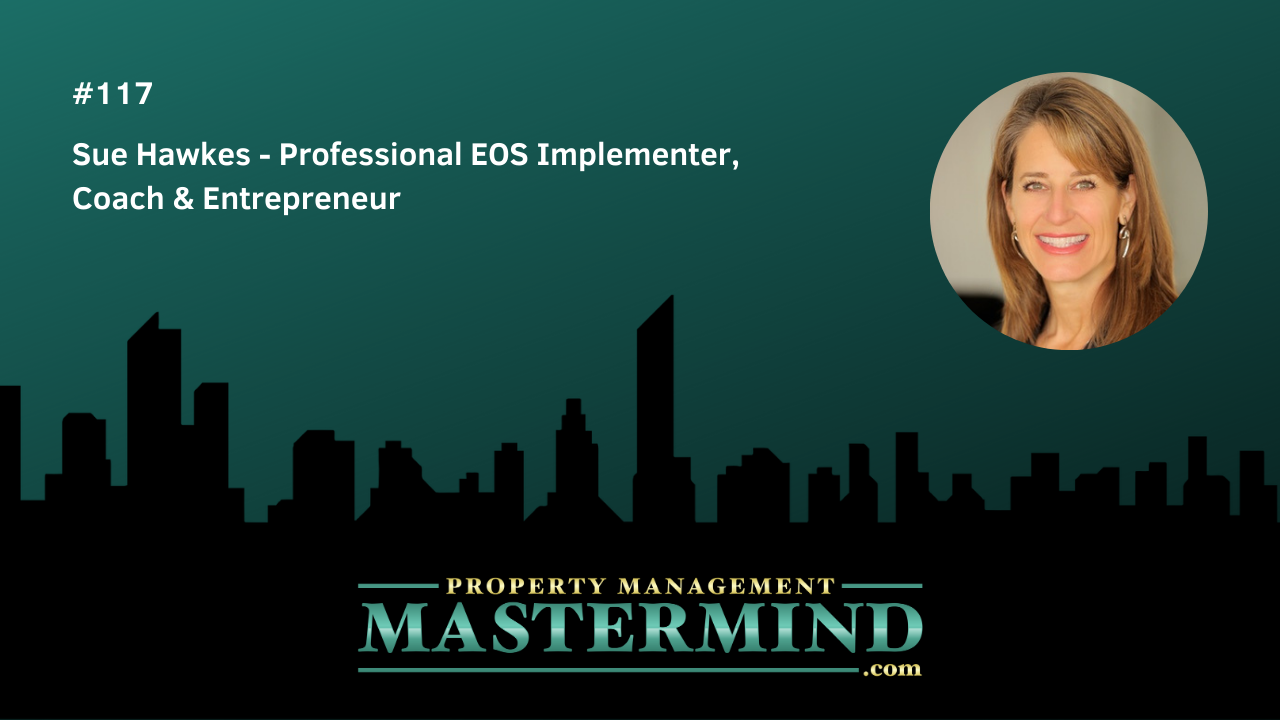 Welcome to the Property Management Mastermind Show with your host, Brad Larsen. Today's guest is Sue Hawkes, a best-selling author, an award-winning leader, a certified EOS Implementer, certified business coach. Sue brings over thirty years of business experience to her clients by helping CEOs and their leadership teams succeed. Sue will be speaking at the Property Management Mastermind Conference about the benefits, features, and cool stuff behind EOS implementation.
Sue shares what an EOS system is by saying it's an operating system that helps you do the work you do best and helps you organize your business around three main distinct things, vision, traction, and healthy. Listen as she explains how these three things combine to create a functional, healthy leadership team, and your business serves your life rather than you being a slave to your business.
Listen as Sue speaks about what is involved with implementing their EOS System and why the first six months is the hardest. She talks about self-implementers and how they usually always ask for help and the various businesses and industries she has implemented the system in.
Sue is the Keynote speaker at PMMCon and shares some of what you will hear when you attend her talk, and Brad shares some of the other speakers and why he structured the conference the way he did. Have you registered yet? May is almost here, and you don't want to miss this conference.
**Announcement** The Property Management Mastermind Conference is May 19-21 at the Gaylord Resort in Grapevine, TX. For more information, go to PMMCon.
In this episode:
[03:05] Welcome to the show, Sue!
[03:52] Sue defines an EOS as an operating system that helps you do what you do best.
[05:42] Sue shares her background, her blended family, and how long she has been doing EOS.
[07:02] Sue speaks about working in a property management company when she graduated from college.
[09:52] Brad discusses when RentWerx implemented an EOS system and how it has added value to the company.
[11:54] Sue talks about the work involved in implementing an EOS system and how the first six months is the hardest part.
[13:54] Sue shares the series of meetings, annual meetings, and the things they do consistently to help while implementing EOS.
[16:31] Brad shares how he thought he could implement the system himself without help, but how wrong he was.
[18:15] Sue speaks about how the third-party implementor usually ends up going in and helping the self implementer.
[21:24] Listen as Sue shares the industries and businesses she has implemented the system into.
[24:12] Sue talks about her podcast, book, and YouTube content creation.
[26:16] The name of her podcast is Intentional Greatness.
[28:02] Brad shares how he has arranged the speakers for PMMCon and why he did it that way.
[31:19] Sue speaks about some fun tools they have.
[34:31] Sue and her team will be available at the PMMCon conference to talk to you and answer any questions you have.
[35:27] What have you implemented in the last twelve months to improve your business?
[37:39] Sue shares about her book called Chasing Perfection: Shatter the Illusion; How to Minimize Self Doubt & Maximize Success
[40:26] Sue will be speaking on Thursday morning, May 20th, at PMMCon at the Gaylord in Grapevine.
[40:57] Thank you so much for being on the show!
Find Sue:
Sue Hawkes
Links and Resources:
Property Management Mastermind
Property Management Mastermind Group on Facebook
(619) 988-6708 (Allison DiSarro from Seacoast Commerce Bank)
NARPM Southern States Conference
National Apartment Association