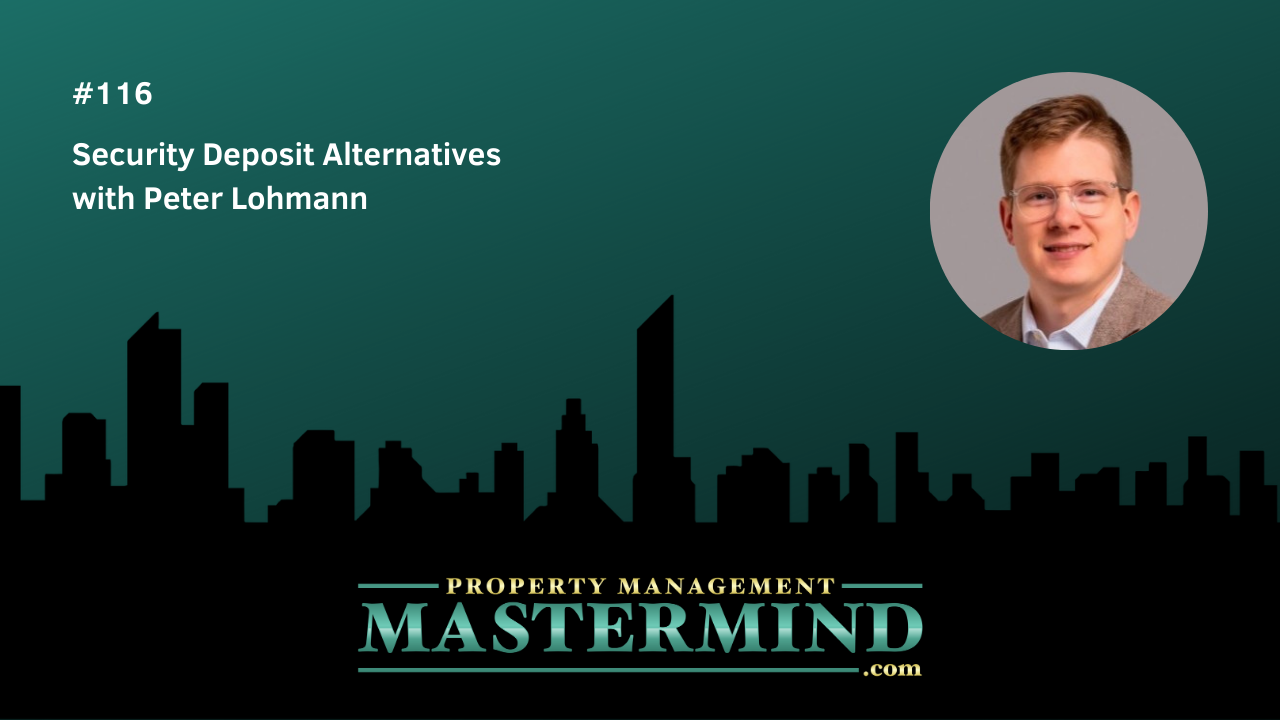 Welcome to the Property Management Mastermind Show with your host, Brad Larsen. Today's guest is Peter Lohmann from Columbus, Ohio. Brad reached out to Peter recently because he put out some great information online about alternatives to security deposits. Brad wanted to continue the conversation, so he brought Peter on to talk about security deposits, preferred tenant programs, and some vendors who are in the space.
Listen as Peter shares the research he has done on preferred tenant programs and dives into detail of the key players in the space and the models they use. Peter also discusses the alternative products to security deposits and the incentives for property management companies to implement their programs.
Peter and Brad discuss why they are against security deposits and how the law is usually swayed toward the tenant even when the evidence doesn't back the decision.
Peter talks about how credit companies have different products for different industries, and Brad speaks about the collection rate percentages from outgoing tenants.
Peter shares what he has implemented in his company over the last twelve months that he is excited about and a book that he believes everyone should read called The 4 Disciplines of Execution. Peter believes that if you follow the guidelines set in this book, you can change your organization for the better in a short amount of time.
**Announcement** The Property Management Mastermind Conference is May 19-21 at the Gaylord Resort in Grapevine, TX. For more information, go to PMMCon
In this episode:
[02:20] Peter shares his background and company.
[05:18] Peter speaks about the research he has done on preferred tenant programs.
[07:54] Peter dives into details of who the players in the space are and the models they are using.
[10:06] Peter speaks about Surety Bonds as an alternative.
[13:22] Peter talks about how the tenant views insurance and why it's called a moral hazard.
[14:40] Peter discusses the three big players with new products that are alternatives to security deposits.
[17:44] Peter talks about the concerns with some groups and whether they are profitable.
[21:10] What are the incentives for the property management company to implement some of these programs?
[24:41] Brad talks about why he is so against security deposits.
[25:37] Peter shares a story about something that happened to his company in Ohio.
[28:57] Brad says that the judges don't follow the laws and usually rule in the tenant's favor at the justice of the peace level.
[31:55] Peter says that Zillow lists the jurisdiction, city, or state laws where you are looking to rent.
[34:06] Surety bond companies are not charging enough to cover the losses over time.
[37:21] Brad discusses the collection rates from outgoing tenants.
[39:03] Peter talks about the credit score issue and the products they create for different industries.
[42:19] Peter explains why it matters to property management companies with whom they partner with.
[44:12] Can you tell us one thing you have implemented in the last 12 months that benefited your company?
[47:22] Brad shares something his company just recently did.
[50:30] Peter talks about giving their new property owners a good deal and raising the rates for existing property owners.
[52:10] Brad speaks about having an owner's handbook and ties your property management agreement to the handbook.
[53:55] Peter talks about a book that gives some great ways to make changes to your organization called The 4 Disciplines of Execution.
[57:16] Thank you for being on the show!
Links and Resources:
Security Deposit Alternatives & Tenant Screening Innovation
Property Management Mastermind
Property Management Mastermind Group on Facebook
(619) 988-6708 (Allison DiSarro from Seacoast Commerce Bank)
NARPM Southern States Conference
National Apartment Association