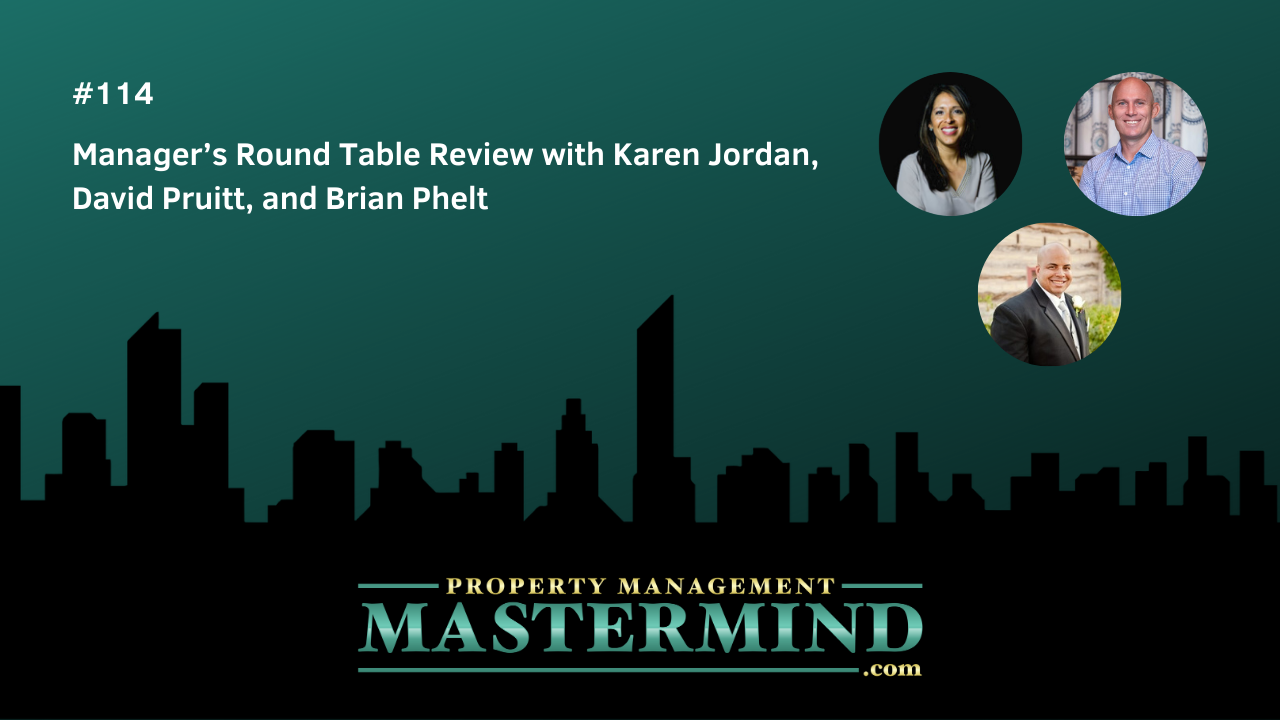 Welcome to the Property Management Mastermind Show with your host, Brad Larsen. Today we are talking to three participants of the Manager's Round Table, and they will talk about some details of what they learned and how it worked for them and get a feel for what we can potentially improve on to make it a better system.
Manager's Round Table is a platform we created because we identified a need for a mastermind. Because it's a lot easier said than done, we created this platform where we have facilitators that organize the group and go through checklists of items they want to talk about in a group format twice a month.
Listen as David shares his two key takeaways from the round table, including a resident benefits package and a discussion on an owner's manual. They challenged Karen to benchmark where her competitors are and an owner's zoom call she is implementing quarterly. Brian was excited about the SWOT analysis he went through with the group and ways to earn more revenue for his business.
David, Karen, and Brian discuss some other lessons learned during the round tables and discuss continuing the format from now on as Brian says, why wait until a conference to improve your business when you can go to a round table every two weeks and bring something back to implement.
**Announcement** The Property Management Mastermind Conference is May 19-21 at the Gaylord Resort in Grapevine, TX
In this episode:
[03:15] Welcome to the show, Karen, David, and Brian!
[03:36] David introduces himself and his business in Phoenix.
[04:32] Karen shares who she is and her business in California.
[05:12] Brian from San Antonio speaks about who he is and his business.
[08:26] David was able to have the group go through a residents benefits package and discuss an owner's manual they implemented.
[10:20] Brad gives his insights on David's lessons learned.
[12:41] Karen says they challenged her to benchmark where her competitors were,
[13:28] Brad talks about secret shoppers and the benefits of it.
[15:05] What did you discover in your marketplace that made you want to change what you were doing?
[16:30] they also challenged Karen to review their expenses every quarter.
[18:23] Karen talks about an owner's zoom call that she did that she will implement once a quarter.
[19:45] Brian discusses the SWOT analysis that he was a part of in the group.
[20:42] Scott pushed them to look at their businesses and see where they add more revenue.
[22:07] What did you see as some benefits that came out of the group?
[24:21] Brad speaks about the feedback they got from the residents' benefits package.
[25:37] Brad discusses the issues they had during snowmageddon they had in San Antonio.
[26:44] Karen shares why her group at the round table is fun, especially with the accountability Deb expects.
[29:12] David says the biggest thing for him was going there with the intent to share and the more vulnerable atmosphere where everyone shared.
[31:07] Brian talks about the format and how he's making his business better every two weeks.
[32:38] The Property Management Mastermind Conference is May 19-21st! See you all there.
[33:21] Thank you for being on the show, everyone!
Links and Resources:
Property Management Mastermind
Property Management Mastermind Group on Facebook
(619) 988-6708 (Allison DiSarro from Seacoast Commerce Bank)
NARPM Southern States Conference
National Apartment Association