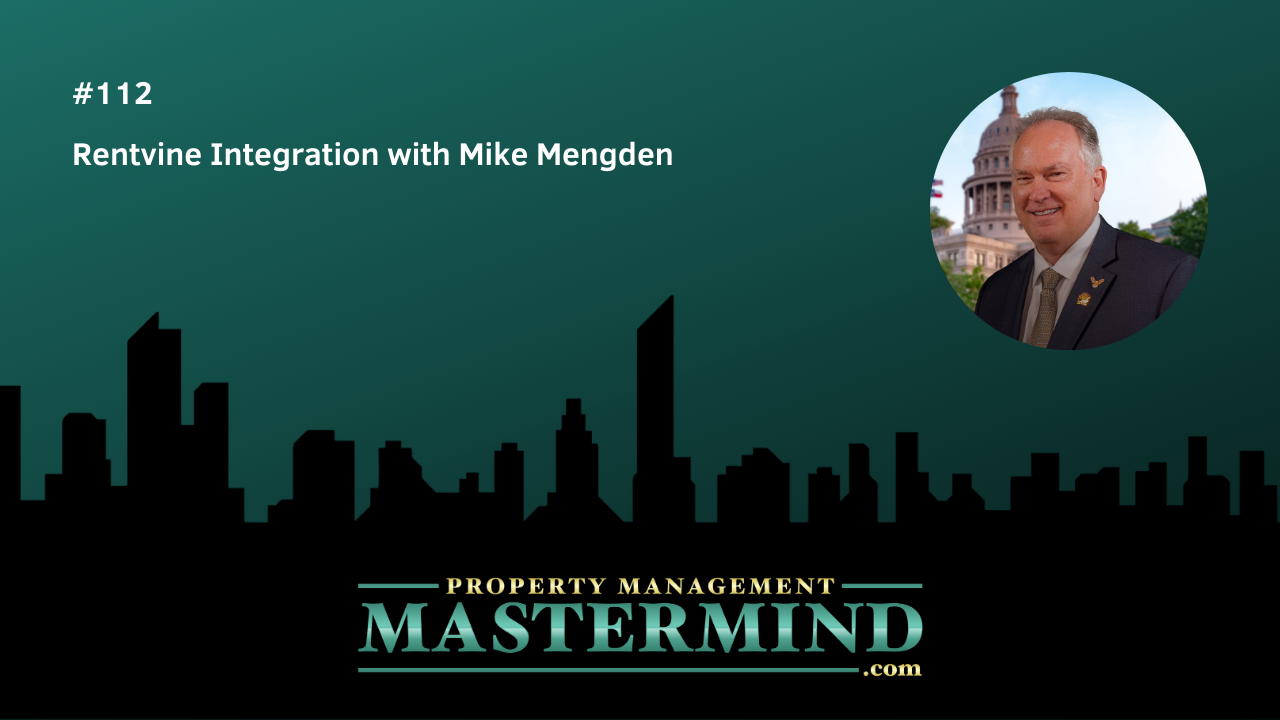 Are you frustrated with your current property management software? Welcome to the Property Management Mastermind Show with your host, Brad Larsen. Today's guest is Mike Mengden with Terra Residential Services, a property management company. Listen as they discuss Rentvine, the new software coming out that everyone has been waiting several years for, and how Mike successfully integrated this software into his business, and much more.
Mike discusses why he changed to the Rentvine software and the three founders of the Rentvine product and how trusted they are in the industry. Mike describes the implementation of the new software, how much Rentvine helped with the process, and how great it was to have a company that didn't just sell a product but was willing to help you through the entire transition.
Mike also speaks about Rentvine's accounting program for tenants, owners and managers, and how they have integrated the NARPM Accounting Standards into the software for easy use. Listen, as Mike shares some questions that he believes you should ask Rentvine if you consider using their product.
Mike and Brad discuss Rentvine's automated systems and the type of properties that would work the best with this software. Rentvine has evolved over the years from their first trial to now and is open to suggestions for changes or additions they could add to make the software better.
In this episode:
[02:46] Welcome to the show, Mike!
[02:51] Mike shares his background and what he is doing now.
[04:35] Mike discusses why he changed to the Rentvine software.
[06:49] Brad talks about the developers of Rentvine and how trusted they are in the industry.
[08:23] Mike gives some background on the three founders of this product.
[11:15] Brad discusses how accommodating they were with some other products they have launched.
[13:00] How did the implementation go, and what did they do to help you on the implementation side?
[15:15] Part of the implementation is that you will have to have someone input the specialized information from your old software.
[17:00] Mike shares what Rentvine did to help get him up and running.
[19:58] Mike says that most people working with Rentvine right now are the smaller companies.
[21:28] Mike speaks about getting their owner 1099 forms and the system Rentvine built to make sure it all went smoothly.
[24:52] Mike talks about his experience with the accounting software and the integration with the NARPM accounting standards.
[26:21] Mike talks about the tenant payment portal that Rentvine offers.
[28:21] There is a two-day turnaround to receive the interest money from the tenant.
[30:15] Mike talks us through the owner payment portal process and the multiple ways to pay.
[33:17] Are you still doing your business accounting outside of Rentvine?
[34:18] Mike shares the questions he believes people should ask Rentvine when considering changing to the new software.
[37:08] Everything is automated, and you have a notification system to keep you informed.
[39:09] Mike discusses the type of management companies Rentvine works with and how flexible the software is.
[41:37] Brad speaks about having a total umbrella platform to run your management company from once you integrate Rentvine.
[43:41] Mike talks about how much Rentvine has evolved over the last few years.
[44:31] Thank you so much for being on the show!
Mike Mengden:
Links and Resources:
Property Management Mastermind
Property Management Mastermind Group on Facebook
(619) 988-6708 (Allison DiSarro from Seacoast Commerce Bank)
NARPM Southern States Conference
National Apartment Association