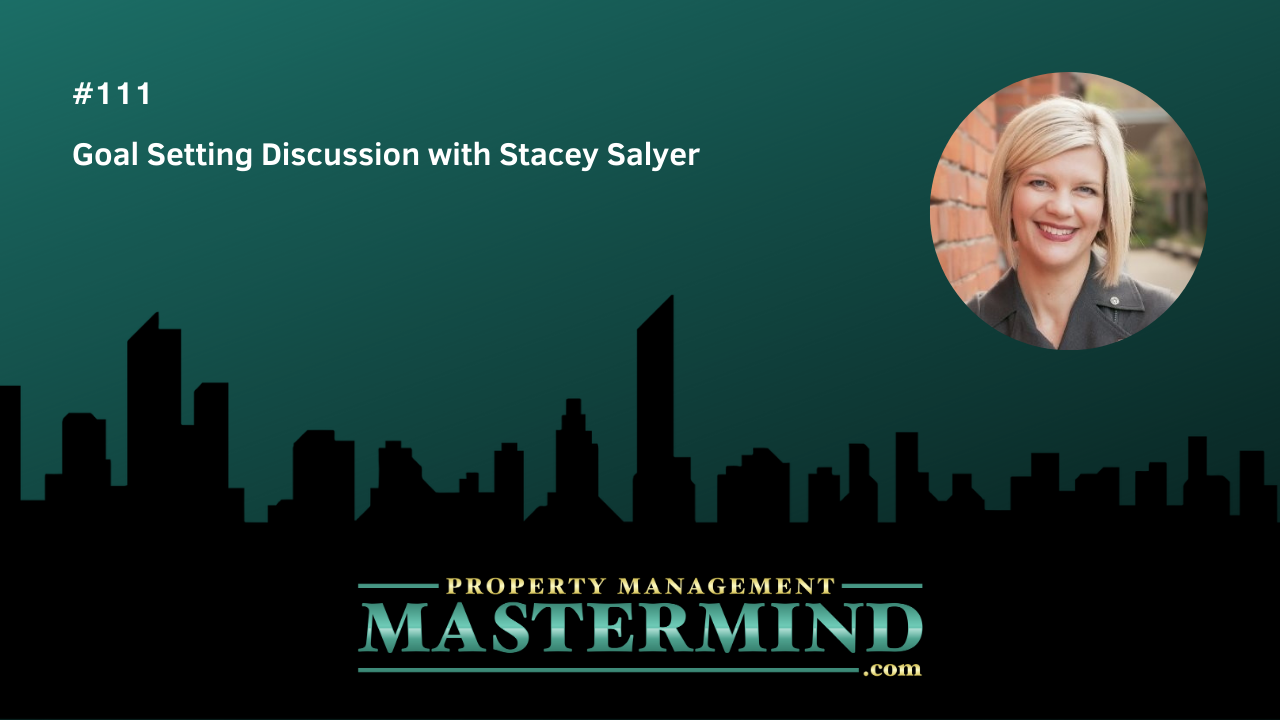 Welcome to the Property Management Mastermind Show with your host, Brad Larsen. Today's guest is Stacey Salyer, the Owner of Leading Edge Property Management out of Washington State. Listen as Brad and Stacey discuss goal setting, a review of the dumpster fire we call 2020, and what they have outlined for themselves and their companies with goal settings for 2021.
Brad and Stacey discuss some of their primary business goals for 2021, like increasing sales, creating a solid tenant purchase program, and focussing on the client experience, to name a few. Brad also talks about some discount programs his company implemented in 2020 around selling homes to tenants that are ready to buy.
Listen as they talk about personal and family goals they have for the new year and their goals for the property management sides of their businesses. Stacey speaks about hiring a new agent for her real estate company, and Brad shares a funny story about the time he was in real estate back in the day. Brad and Stacey both believe that if you are not selling homes to your tenants, you are missing out on an untapped market.
In this episode:
[02:10] Welcome to the show, Stacey!
[03:27] Stacey shares her background and talks about her companies.
[05:33] One of Brad's goals for 2021 is to increase sales.
[07:00] Brad discusses how he plans to accomplish this goal.
[08:12] One of Stacey's goals for 2021 is to create a solid tenant purchase program.
[10:40] If you sell to your tenants, are you poaching?
[11:01] Stacey speaks about mining the gold mine: the owners and sending out more CMA's and doing Webinars on the 1031 exchange.
[13:18] Brad also wants to improve on their pocket listing system.
[14:22] Stacey believes they need to focus on their client experience in 2021.
[17:01] Brad shares how successful his company has been with giving discounts and credit towards closing costs if the tenant used them to buy a new home.
[18:48] Brad talks about why he believes goal setting is so important.
[19:50] Stacey speaks about what she believes is one of the most important things in goal-setting sessions.
[23:23] Bradi discusses his personal and family goals for 2021.
[24:27] Stacey shares her personal and family goals for 2021.
[27:25] Stacey speaks about some health issues she had in 2020.
[29:24] Brad chats about his property management goals.
[33:16] Stacey talks about her PM goals for 2021.
[36:24] One of Brad's campaigns for 2021 is to control his tenants' access better.
[38:39] Stacey wants to concentrate on the experience with clients and tenants.
[40:56] Do you use tenant software when you walk them through their new home?
[44:29] There is no reason for a tenant to come to your office at all.
[46:57] Recruiting on the sales side is another one of Stacey's goals.
[49:13] Stacey is looking for a very specific agent to add to her team.
[51:54] Brad shares a fun story about his time with a real estate company.
[53:43] Brad believes that you are missing out if you don't have sales in your PM company.
[54:53] Thank you for being on the show!


Stacey Salyer:
Leading Edge Property Management
Links and Resources:
Property Management Mastermind
Property Management Mastermind Group on Facebook
(619) 988-6708 (Allison DiSarro from Seacoast Commerce Bank)
NARPM Southern States Conference
National Apartment Association