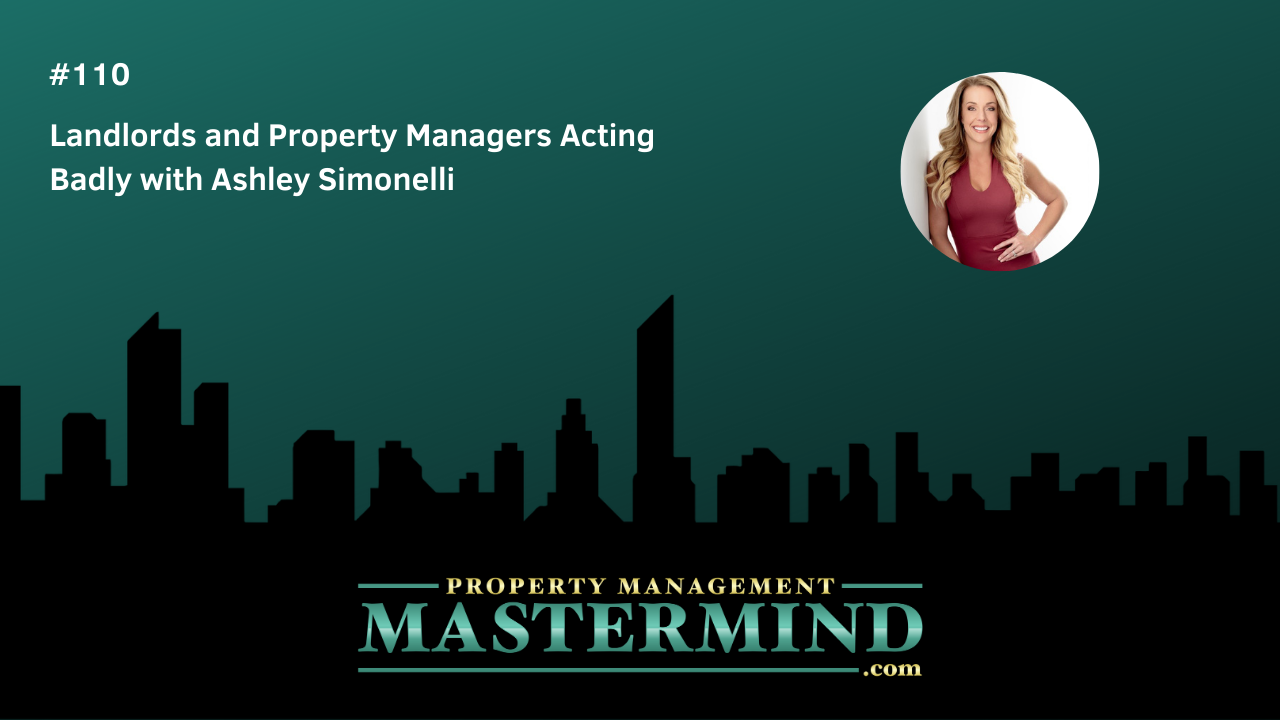 Welcome to the Property Management Mastermind Show with your host, Brad Larsen. Today's guest is Ashley Simonelli, a property manager from Florida. Listen as they talk about landlords and property managers acting badly by conducting less than honorable business practices with their tenants, owners, and even among themselves.
Brad and Ashley discuss the shady practices around security deposits, how they are being used, and how some management companies spend them and then disappear. Brad shares the correct way to handle security deposits, and Ashley shares horror stories from her market.
They talk about what some management companies do around application fees and whether charging several application fees for the same property when you have a qualified applicant is shady. Brad shares the best practices he uses that comply with the Fair-housing act.
Listen as Brad and Ashley discuss landlords that want to do the maintenance themselves instead of allowing the property management company to take care of them. They discuss why this is a bad practice and how the property management company can become liable.
They finish the conversation with a discussion about pet deposits. Charge them, don't charge them, or call them fees, and how Brad protects his renters with a program he has at RentWerx. Brad gets fired up about bad property management practices, so this is definitely an episode you don't want to miss.
In this episode:
[03:36] Ashley shares her journey to property management.
[05:19] Ashley discusses how security deposits are not being held and deposited into general accounts.
[06:55] Listen as Ashley shares a story about a management company that disappeared with security deposits and rents.
[09:37] Brad speaks about the right way to handle security deposits and business accounts.
[12:05] Ashley shares some things she has seen on the leasing side around security deposits.
[14:43] Brad talks about how shady property managers operate.
[16:07] Ashley discusses what apartments do when you need a few month's extension on your lease.
[19:29] Ashley talks about a situation on a property she took over.
[20:45] Brad speaks about some things he has seen on the leasing side of homes he has taken over.
[22:33] Ashley discusses shady methods of taking applications and charging fees.
[24:02] Brad speaks about the first or best application concept, which complies with the Fair-housing act.
[26:37] Do you ever refund application fees?
[28:30] Listen as Ashley shares what she has seen on the maintenance side.
[29:37] Brad discusses landlords doing their own maintenance.
[32:16] Put yourself in the vendor's shoes; vendors do not want to collect the landlords' payment.
[33:30] Ashley talks about the maintenance side with vendors that the management company couldn't vet.
[35:33] A preferred vendor program is a better best practice than getting a kickback.
[36:12] Brad discusses monthly pet fees that cover the renter up to $5000 in damage.
[39:06] Brad shares what Rentwerx does with outgoing tenants' security deposit print out.
[40:26] Thank you so much for being on the show!
Ashley Simonelli
Links and Resources:
Property Management Mastermind
Property Management Mastermind Group on Facebook
(619) 988-6708 (Allison DiSarro from Seacoast Commerce Bank)
NARPM Southern States Conference
National Apartment Association