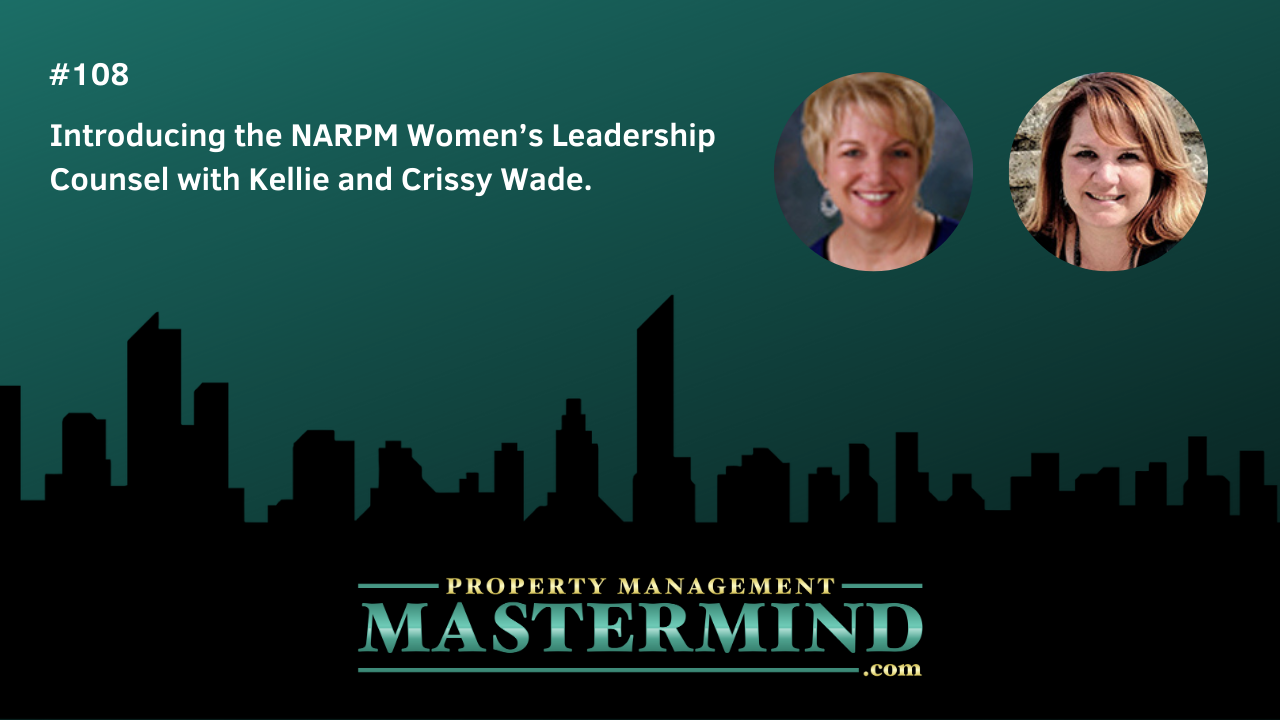 Welcome to the Property Management Mastermind Show with your host, Brad Larsen. Today, Brad's guests Kellie Tollifson and Chrissy Wade, are discussing the NARPM Women's Leadership Council. NARPM's upcoming event is November 12th; this council focuses on developing leadership qualities in women. They want to help them become better businesswomen, speakers, and leaders in their communities and the real estate and property management industries.
Kellie is the National Association for Residential Property Managers (NARPM) 2020 President, who has been involved with NARPM since 2005 and has worked her way up through the ranks. Chrissy owns a property management company in Southern California, growing quickly and has been involved with NARPM for three years.
Listen as Kellie discusses the keynote speaker for Elevate Your Game, Dr. Michelle Mazur, and what she will talk about. Chrissy speaks about the panel, what questions will be asked, and Chrissy shares where she hopes the Women's Leadership Council will go in the future.
If you would like to learn how to be a speaker or just gain confidence as a leader, this is the event you don't want to miss. For more information, go to the Women's Leadership Council. What have you got to lose?
In this episode:
[02:25] Welcome to the show, Kellie and Chrissy!
[02:34] Kellie shares her background and her involvement with NARPM.
[03:35] Chrissy speaks about her background and when she became a member of NARPM.
[04:33] Brad shares what NARPM stands for and how beneficial it is for property managers.
[06:30] Chrissy discusses the plans that are in place for the Women's Leadership Council and how it began.
[08:40] Kellie speaks about how she was involved in forming the committee and what she believes women will receive.
[11:47] Chrissy discusses the first event the council has planned: a virtual event called Elevate Your Game, which will focus on becoming a speaker.
[14:42] Kellie shares what the keynote speaker Dr. Michelle Mazur will discuss.
[16:44] Chrissy, when people reached out to you with questions, what was the number one thing they wanted to know?
[19:33] Kellie discusses what she believes the panel will be asked at this first event.
[21:37] Chrissy shares where she sees the council going in the future.
[23:13] Kellie hopes that over time they will have the budget to get experts in the industry to help broaden women's challenges in the workforce.
[25:01] Chrissy believes that everyone needs to learn to be better at communication.
[26:07] Kellie discusses the enthusiasm she is seeing from men about this council.
[27:45] Thank you for listening to the show!
NARPM Women's Leadership Council Event November 12, 2020
Links and Resources:
Property Management Mastermind
Property Management Mastermind Group on Facebook
(619) 988-6708 (Allison DiSarro from Seacoast Commerce Bank)
NARPM Southern States Conference
National Apartment Association