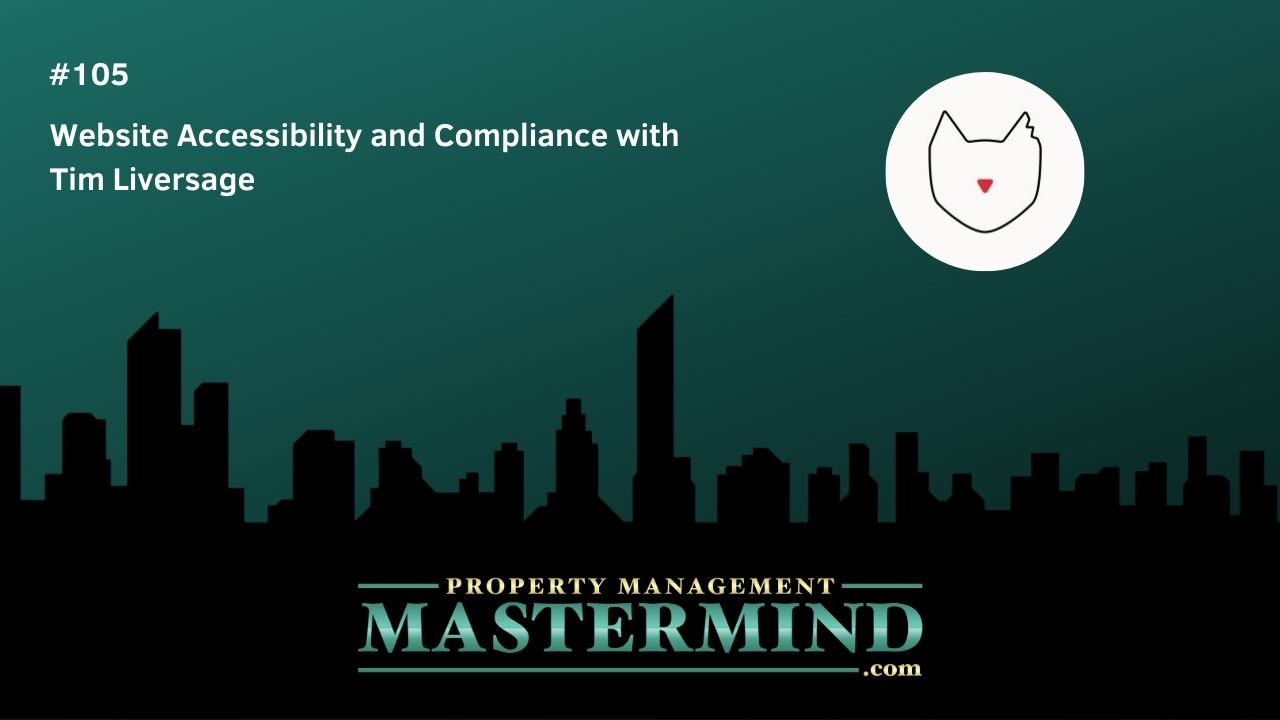 Today, Brad's guest on the Property Management Mastermind Show is Tim Liversage, the co-owner of Stray Cat Digital, a digital marketing company. Listen as they discuss website accessibility issues and compliance issues which are the buzz topics right now. Brad feels it's very important for the property management managers to understand this, to make sure they are being implemented into their marketing and websites because the vultures are circling.
Brad and Tim discuss how attorneys are finding non-compliant websites and slapping a demand letter on you for thousands of dollars. Tim speaks about an audit program he has developed that will audit your website and tell you what needs to be updated and give you a starting point to get compliant.
Listen as Tim gives examples of large companies and celebrities that have been sued because their websites were not compliant. Tim shares that the people affected by these non-compliant websites are the blind or people who can't hold a mouse, just to name a few of the disabilities that are hindered by these websites.
Did you know that 90% of web browsing is now done on cell phones? Tim shares some statistics and gives a range of where pricing can start depending on what you need to do on your website to bring your compliance current. The bottom line is, check your website and make sure it is compliant before the vulture attorneys come after you for non-compliance.
In this episode:
[02:37] Tim shares a little of his background.
[03:47] Brad explains how these attorneys are trying to find a non-compliant website and slap you with a demand letter to get a quick settlement.
[06:33] Tim discusses an audit program that he has developed to give you a checklist of your issues.
[08:39] Tim speaks about the fair housing act, which is part of the ADA.
[10:59] Tim talks about the accessibility statement that everyone needs to have to show on their website.
[12:23] Tim shares an example of what these lawsuits look like and who has been sued.
[15:20] People who don't have a legal team usually get these letters.
[17:05] Tim speaks about who is affected by these websites that are not compliant.
[21:39] What are some benefits and features of keeping your website updated and compliant.
[24:52] Tim talks about recording video with subtitles and not using voice.
[25:41] 90% of web browsing is now done on a mobile phone.
[27:17] Tim gives a range of what it will cost to fix a website and make it compliant.
[29:33] Word press is the only platform you can use that has the budget and accessibility to fix or redo your website.
[31:41] The bottom line is that you need to make sure your website is compliant as quickly as possible.
[32:51] Tim shares some final thoughts.
[34:06] Thank you so much for being on the show!
Find Tim:
Twitter | Facebook | Instagram | LinkedIn
Links and Resources:
Property Management Mastermind
Property Management Mastermind Group on Facebook
(619) 988-6708 (Allison DiSarro from Seacoast Commerce Bank)
NARPM Southern States Conference
National Apartment Association