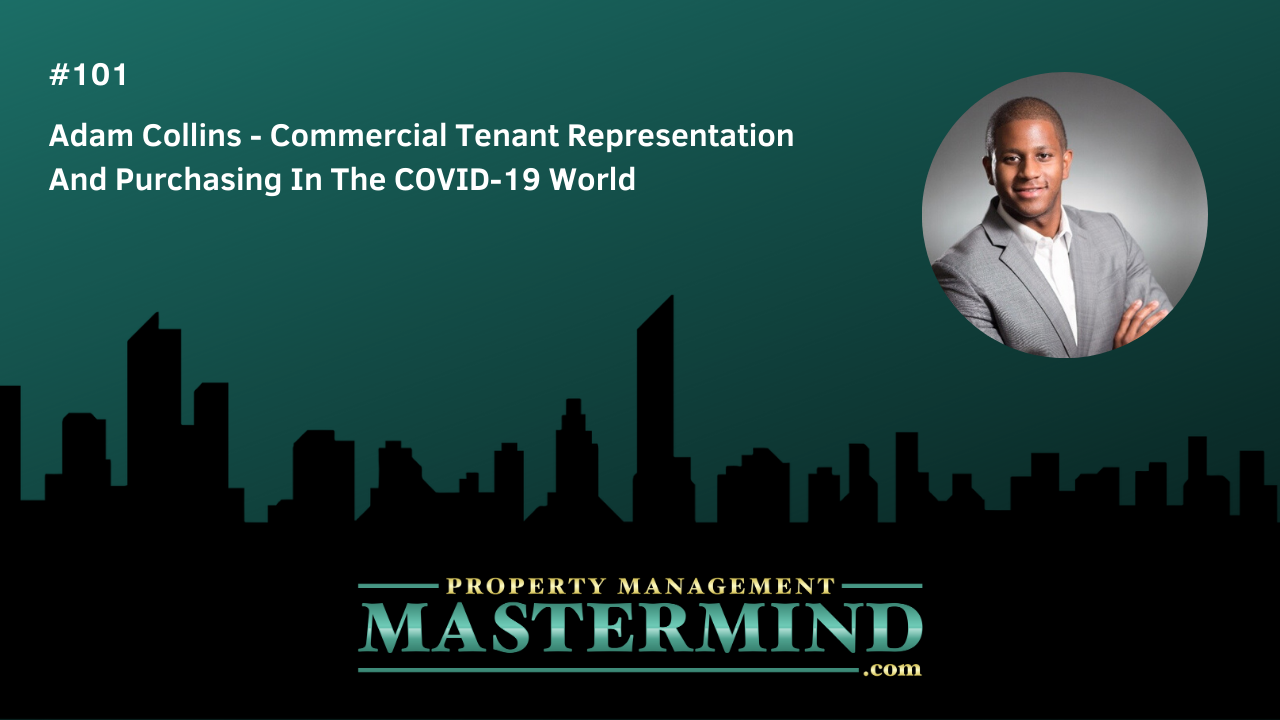 Would you rather work from home exclusively or go to the office a few days a week? Listen, as Brad and his guest Adam Collins, a real estate broker in the Washington D.C. area, discuss the changes happening in office settings, and how to help tenants find commercial properties, investing in commercial and manage commercial properties on this episode of The Property Management Mastermind Show.
Adam speaks about the changes he sees in the office world because of COVID-19, how he believes commercial leases will change, and why blend and extend is a negotiation tactic that will allow you to pay a lower rent today but also gives the landlord stability because he knows the building will be occupied for however many more years.
Adam discusses tenant representation, how his company works with the client, and the concessions they ask for. Adam shares the pitfalls you don't want to fall into when looking for commercial property and where he sees commercial real estate going in the next year.
When preparing to buy a commercial property, start by having a pleasant relationship with your banker. Please discuss what you are looking for with your banker and broker so they are both on the same page. If you are looking to buy a commercial property or have a commercial property to lease, this is an informative episode that you won't want to miss.
In this episode:
[02:37] Welcome to the show, Adam!
[03:58] Adam shares what he has seen in the office world since the pandemic has kept people home.
[06:04] Adam discusses how commercial leases will change and where the trend is leading.
[07:50] Blend and extend, which allows you to pay less rent today but also gives the landlord some stability.
[10:25] Are you seeing the blend and extend negotiation tactic working in your area?
[12:20] Adams discusses tenant representation and how they work with clients to find the best lease.
[15:09] Adam shares the concessions they ask to help their clients get the best lease possible.
[19:15] What is the last minute throw in that you always ask for and get?
[21:36] Who pays for your services? What is the standard rate?
[24:10] Adam speaks about the pitch that he uses to get clients.
[26:04] Adam discusses the pitfalls that you never want to walk into.
[28:36] Spec suites are what Adam believes will be the future of the leasing world.
[31:43] What do you see on the purchasing side of commercial leasing?
[33:20] Adam shares his insights into purchasing and the types of loans he recommends.
[36:09] Adam believes that it might be harder to lease space as leases roll into renewal during this time, but it won't be like 2008.
[39:16] Having a relationship with your banker is essential.
[40:16] Talk with your banker while you are talking to your real estate broker.
[43:54] Thank you for being on the show!
Links and Resources:
Property Management Mastermind
Property Management Mastermind Group on Facebook
adisarro@sccombank.com
(619) 988-6708 (Allison DiSarro from Seacoast Commerce Bank)
NARPM Southern States Conference
National Apartment Association
Find Adam:
@adamcollins