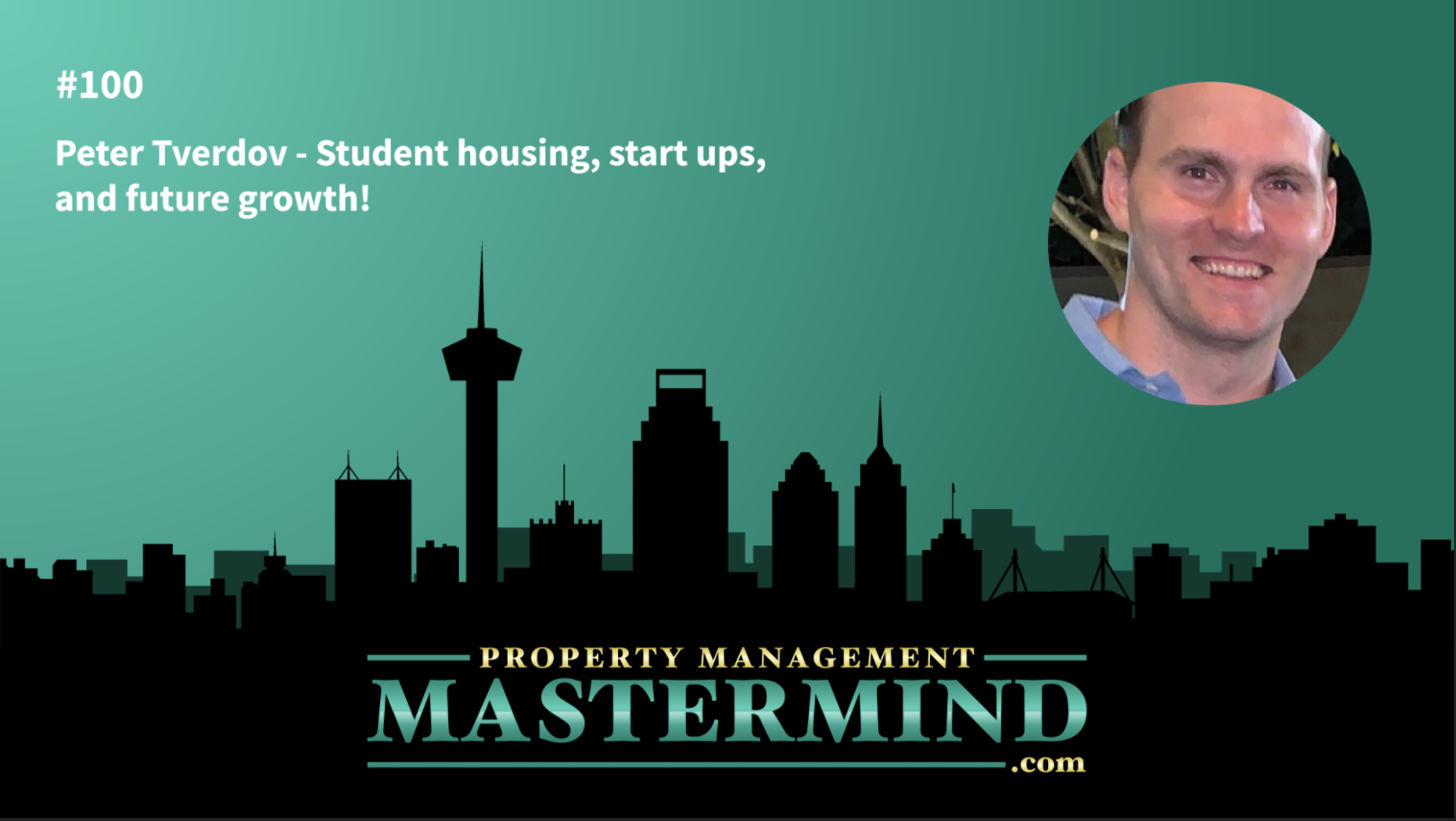 Can you believe it's the 100th episode of The Property Management Mastermind Show? Listen, as Brad and his guest Peter Tverdov discuss surviving the pandemic with a still-growing business in a niche that few people have found in student housing plus much more on this 100th episode of the podcast.
Peter is a property manager from New Jersey, and he has a start-up in the niche world of student housing called Tverdov Housing. He left the corporate world, survived the pandemic, and came out on top with a growing company. Peter's mindset is that no one will do it better than he could, so he quit his corporate job in January of this year and is making it work.
Listen as Peter speaks about why he became a property manager, why his focus has been on student housing, and how a lease works with multiple students renting a single-family home. Peter talks about his tenants, making one payment with one check, and why he doesn't do background checks on all the students in the house.
Brad and Peter also talk about the software he uses for quarterly inspections and where he sees his company in the next few years. Peter believes in building slowly, so he has a plan for adding more doors to his company in a way that won't overwhelm them. He also discusses what he likes about renting to students and what he doesn't.
From Wall Street to building a company around student housing, Peter has a vision, and even the COVID-19 crisis hasn't stopped him. He knows that even though it has been slow for a while, things will inevitably pick up, and he wants to be prepared when that day comes.
Show Notes
[02:11] Welcome to the show, Peter!
[03:03] Peter shares a little of his background and how he got into property management.
[05:12] What is the climate of managing homes in New Jersey?
[07:10] Peter speaks about how he got into student housing management.
[08:25] Peter describes what student housing looks like in New Jersey.
[09:47] How does a lease work when you have multiple students in a single-family home?
[12:47] Peter shares how payments work, one person pays the rent, one check.
[16:22] Do you do background checks on each student living in a home?
[19:34] Peter speaks about the software he uses for quarterly inspections.
[20:24] Where do you want to take your company in the next few years?
[22:38] Peter discusses what he thinks the fall schedule will be for the colleges in New Jersey.
[24:13] What is your least favorite and most favorite thing about managing student housing?
[26:33] Peter believes that student housing will be a large part of his business in the future.
[28:18] Peter speaks about some concierge services his company offers to their owners and student tenants.
[31:30] Peter shares what he learned from his football coach at Rutgers University in New Jersey and how he applies it to his everyday life.
[33:45] Peter, thank you so much for being on the show!
Links and Resources:
Property Management Mastermind
Property Management Mastermind Group on Facebook
adisarro@sccombank.com
(619) 988-6708 (Allison DiSarro from Seacoast Commerce Bank)
NARPM Southern States Conference
National Apartment Association
Find Peter: