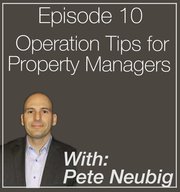 If you've been a faithful listener of this show, you will already have heard of Pete Neubig of Empire Industries LLC, a property management company out of Houston, TX. Pete is partners with Steve Rozenberg, my guest on episode three of this podcast. In that episode, we went into great deal about satellite offices and marketing.
While Pete touches briefly on these topics, he spends more time on his areas of expertise. He's the guy in the background who makes things run and ensures the systems at Empire Industries keep up with the growth.
Pete is also deeply knowledgeable about hiring and employee retention. He's been using the framework of the DISC personality profile to ensure he hires the right people for the right roles, after realizing the reason he lost certain employees was because their personalities weren't the right fit for their jobs. He'll explain this in the interview, as well as offer insight into what personality types you should hire for certain roles within your own property management company.
We then take a deep dive into techniques for dealing with homes that have high days on market. He shares some tips and strategies for how to deal with a situation in which a home you're trying to rent has high days on market and offers advice on how to get those rented. We cover, for example, the importance of keeping the owner in the loop, and of making the move-in process as simple and hassle-free as possible.