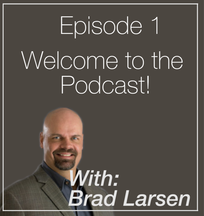 Let me take a moment to introduce myself. I'm your host, Brad Larsen, the owner and real estate broker of one of the fastest-growing property management companies in the San Antonio, Texas region. I grew up in a small town in Iowa, and both of my parents were schoolteachers. Before I got involved in real estate, I was an army infantry officer.
The book Rich Dad Poor Dad completely changed my perspective on life, work, and careers, and it became clear that it was time for me to make a change. I decided to enter the real estate business, and started Larsen Properties from scratch in 2011. Today my company manages over 600 single-family homes, and it generated over $2 million in revenue in 2016.
I'll be straight with you: despite these accomplishments, I'm not someone famous, and I know I still have more to learn. With this podcast, I'm here to facilitate conversations with some of the best property managers in the industry so you (and I!) can benefit from their experience, insight, and expertise.
This podcast is for property managers, by property managers. It's your opportunity to learn about the latest industry buzz surrounding property management, as well as tips and strategies to improve your business. In this introductory episode, you'll learn a few details about the techniques my company has used to achieve its fast growth and success. More than that, I'll cover the intent of the show and the direction it will take in future episodes.
Thanks for joining me in this first episode, and I look forward to sharing real estate industry insights with you now and in the future!