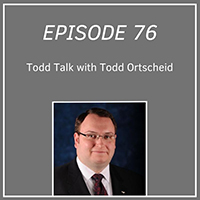 Todd Ortscheid was born in Charleston, West Virginia in 1982. Todd majored in professional aviation at Embry Riddle University and worked as an airline pilot for a major airline based in Atlanta. He served as an Executive Vice President of the Air Line Pilots Association, Int'll, where he was an executive for the Airline Pilots Association and was in charge of running the budgets and negotiating contracts for pilots with the major airlines. Todd has held a real estate sales license in Georgia since 2008. Todd is currently chairman, president, and CEO at Central Georgia Realty, LLC.
I love offering listeners fantastic benefits, such as some great discounts for products, with new offers coming all the time! You can see a complete list at Property Management Mastermind. For all of these offers, use the discount code "Brad" to secure your discount. Be sure to grab a seat for our Pulling Back the Curtain Conference in August in Denver, Colorado. Find out more information on our website.
We'll learn today what's best for property management: portfolio, hybrid, or departmental. NPS scores going south, and how you know when your NPS score is going south, is another issue Todd and I talk about. Renting to some professions can be difficult, we give you a solution to renting to people who want to change your lease agreement. The best sales solution for your property management company, how to implement secret shoppers to find out what your competition is doing and selling to make sure your business is staying competitive. When you should hire a lawyer, raise your fees and how to get new clients in the door are the topics we cover in this episode.
Show Notes
[04:22] I introduce Todd and he gives us his background and what he is currently doing.
[07:24] What's best for property management: portfolio, hybrid or departmental and what is Scott currently using in his company.
[10:09] Scott talks about hybrid portfolio options.
[11:22] Why inspectors need to see the home on rollovers.
[13:29] Why I am a big believer in picking up the phone and calling clients
[15:45] Renting to lawyers, realtors, brokers, and paralegals.
[18:44] A solution to a marked up lease agreement is to take the lease and pay for a lawyer to modify the lease or property management agreement.
[25:00] How we dealt with a complaint of racism in our county and how to handle property that is in high demand.
[29:55] Todd's two cents on a percentage based compensation on property management agreements.
[32:00] Higher end pricing and tiers and hybrid pricing from Scott, a property manager in California.
[37:06] A 'seagull' who I met at a Property Mastermind Forum and Scott and I talk about how to manage fees.
[44:05] How I created an annual technology fee and how this went over on my client base and focusing on tenant fees.
[46:38] How you can use leasing to get new clients in the door and why you should collect everything up front.
[50:26] The documents we use electronically and what we have tenants sign on pen and paper.
[55:13] Taking notes electronically make you not as connected as writing on pen and paper.
[61:28] The key to speakers and what people want to see at Pulling Back the Curtain Conference
[67:25] Todd and I talk about our opposing views of the value of your company.
[71:02] Todd starts off the NARPM talk, and the benefits of this organization.
[79:02] Where improvements can be made in organizations.
Links and Resources:
Property Management Mastermind
Property Management Mastermind Group on Facebook
(619) 988-6708 (Allison DiSarro from Seacoast Commerce Bank)
(918) 728 8992 (Derek Scott with Insurance Management Group)
Pulling Back the Curtain Conference