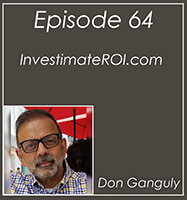 Don Ganguly from INVESTimate through HomeUnion joins me on the show today. We'll chat about working with investors, his platform, and his support through NARPM. He's a key new vendor who you should absolutely check out (once you're done listening to our conversation in this episode)!
I love offering listeners fantastic benefits, such as some great discounts for products, with new offers coming all the time! You can see a complete list atpropertymanagementmastermind.com. For all of these offers, use the discount code "Brad" to secure your discount.
A self-described serial entrepreneur, Don came up with the idea of creating a platform that allows investors to invest in rental properties the same way they invest in stocks and bonds, with a risk and rewards calibration. INVESTimate is the result, as he'll explain today. The system doesn't calculate the risk and reward based on just a straightforward number like the expected rent amount, but instead takes many different factors into account. In fact, they've mapped every neighborhood in the United States and scored it from A to D depending on risk and expected reward.
I love the reports that come from Don's company, because they go so far beyond just school district and curb appeal. That's right; those factors alone aren't enough to base your decision on anymore. I'll let him explain to you what he includes in his awesome reports, and how they can help an investor decide whether to invest in a particular property.
Tune into this episode to learn all about those things, as well as to hear Don's thoughts on pocket listings, turnkey properties, relationship and referral opportunities for property managers using INVESTimate, and more. If you're ready to move up the food chain of property managers, don't miss this conversation!
Show Notes
[02:41] - Brad welcomes listeners, introduces Don, and explains his background with using INVESTimate.
[03:19] - Don gives listeners some background into who he is, what he does, and how he got to where he is today.
[06:30] - What are some of the factors that investors and the INVESTimate system look at?
[08:56] - Don digs into the subject of taxes, pointing out that owner-occupied taxes and non-owner-occupied taxes can vary significantly in some counties.
[12:12] - We learn more about whether INVESTimate can factor in depreciation and tax benefits of investing in real estate, or just the subjects that he has already talked about.
[13:56] - Don talks listeners through how he guides investors in making purchases.
[16:10] - What markets is INVESTimate in, and how could a property management company get involved in their system?
[19:09] - Don gives more detail into how to figure out whether INVESTimate is in your specific area.
[22:47] - We hear about some of the things included in Don's reports, and how they can illustrate why someone might want to invest in a particular property.
[27:42] - What relationship and referral opportunities would property management company owners have with INVESTimate Home Union? Before answering, Don takes a moment to talk about pocket listings.
[30:12] - Don adds to Brad's point about turnkey listings.
[36:43] - We hear another important point from Don: property management companies need to decide where on the food chain they want to be.
[38:58] - Don digs deeper into how to climb up the food chain by providing more opportunities in the market.
[44:14] - Brad points out that all of what Don has been saying is part of the education that he can provide.
[45:55] - How can people learn more about Don and what he does?
Links and Resources:
Property Management Mastermind
Property Management Mastermind Group on Facebook
(619) 988-6708 (Allison DiSarro from Seacoast Commerce Bank)
(918) 728 8992 (Derek Scott with Insurance Management Group)